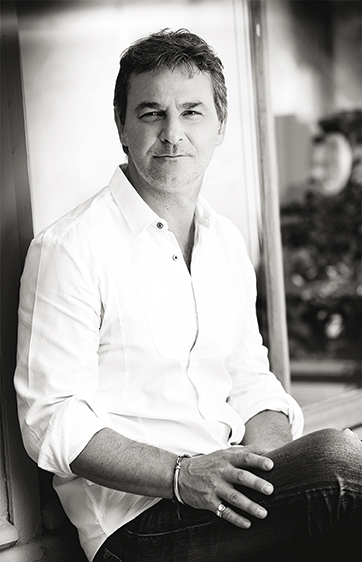 Born in Paris I have always been, since my
early age, fascinated by imagery and story
telling through comics, movies and litterature.
Graduating from the prestigious Ecole
Estienne, Paris art and communication school,
I work today as an independant creative
and art director.
I try to develop a style and aesthetic of strength,
elegance and creativity that's shared across
luxury and premium brands.
Sensitive to visual and artistic latest trends, I pay
close attention to the message to deliver
and to images, in order to create a strong identity
for outstanding campaigns.
Through several advertising agencies as
ROBINSON BBDO, PARIS EN AUSTRALIE, YOUNG &
RUBICAM… I used to work on famous brands and
clients such as LONGCHAMP, JOHNNIE WALKER,
BA&SH, YVES DELORME, SIMONE PERELE, LANCÔME
PARIS, FED EX, to name a few, that have trusted
my sensitivity, my expertise and understanding
of the luxury and premium market.
I live, work and play saxophone in Paris.
Today
Free Lance Art & Creative Director
Collaborate with :
AGENCE AUSTRALIE - AGENCE TALON AIGUILLE AGENCE DAJM - ICILONDRES
AGENCE EXTRÊME - AGENCE ZORBA - BRONSON GROUP - AGENCE ASTON WOOD
Clients :
YVES DELORME - JOHNNIE WALKER - LA MARTINIQUAISE - LANCÔME PARIS -
BONOBO (RTW) - EMIKA PARIS (RTW) - ACN PARIS (RTW)
2011 - 2014
Agence PARIS en Australie - Australie Group
Creative Director
Clients :
NOCIBÉ (BEAUTY RETAIL) - URIAGE - BA&SH (RTW) - CARITA DECLÉOR (L'OREAL
GROUP) - CASANIS (LA MARTINIQUAISE Group)
RHUM CLÉMENT - CHAMPAGNES TAITTINGER - JOHNNIE WALKER (MHD GROUP)
BLASON DE BOURGOGNE - CFCV (CHARITY CAMPAIGN AGAINST INCEST)
DIGITAL: MONTRES MICHEL HERBELIN - PATYKA
2001 - 2011
Agence Robinson BBDO - Paris
Art Director
Clients :
Longchamp (LEATHER GOODS/RTW)
Simone Pérèle (UNDERWEAR)
Le Fleurier/ St Hubert 41/ St Hubert Omega 3
(Marie ST Hubert FOOD)
Federal Express - Faïenceries de Gien (FURNITURE) - Comptoir de Famille
Collective du Papier Peint - Generali INSURANCES
1999 - 2001
Agence Résonnances - Paris
Art Director
Clients :
DAEWOO AUTOMOBILES - FARINES FRANCINE (FOOD) - QUOTIDIEN LA TRIBUNE
(ECONOMIC NEWSPAPER) - MÉDIATIS (COFINOGA GROUP) - EDITIONS 10/18 -
ARCAT SIDA - SAVOUR CLUB (WINE RETAILER) - AXA COURTAGE
1998 - 1999
Agence BCRC - Paris
Art Director
Clients :
GAYELORD HAUSER (DANONE GROUP) - SEAFRANCE SEALINK
SOJASUN - PRODUITS LAITIERS VRAI (TRIBALLATGROUP)
Before 1998
Art Director in several agencies as YOUNG & RUBICAM,
ALLIANCE, BÉNÉFICE.